Qana 1996 - 2006
Flashback:
The Qana shelling took place on April 18, 1996 in Qana, a village located southeast of Tyre, Lebanon. Amid heavy fighting between the Israeli Defense Forces and Hezbollah during "Operation Grapes of Wrath", a Fijian UNIFIL compound in the village was shelled by Israeli artillery. Around 800 Lebanese civilians had taken refuge there to escape the fighting, of whom 106 were killed and around 116 others injured. Four UNIFIL soldiers were also seriously injured. The event has sometimes been referred to as the Qana massacre, for example by Human Rights Watch and the BBC.
2006:
An Israeli air strike killed 54 civilians, including 37 children, on Sunday,
prompting Lebanon to tell U.S. Secretary of State Condoleezza Rice she was
unwelcome in Beirut and fuelling world pressure for a ceasefire.
It is just the same scenario. They hit a building full of civilians and
say Hezbollah used civilians as human shields, or they did not want to kill
civilians, the attack was intended to be on Hezbollah but the IDF shot by
mistake... Or any of this crap that we should eat for good whenever they do one
of their massacres. Sorry, only fools and racist asses can believe such crap
now.
To the Israeli motherfuckers who show their ugly faces on TV
spitting lies about the massacre, I got some questions:
Israel said it regretted the incident - but added that civilians had been warned
to flee the village.

Olmert, if you are hitting Qana because Hezbollah are hiding there, how the fuck would you tell civilians to flee. Doesn't this mean that Hezbollah fighters will flee as well?
Israel said it was unaware civilians were in the building and accused Hizbollah
of firing rockets from Qana

Oh really? Then how did you send a warning to the civilians to flee?
Israel said the Shia militant group was responsible for the Qana strike, because
it used the town to launch rockets.
Oh yeah, and the civilians had the rockets stuck in their asses, so they exploded as soon as the civilians got killed. Where the fucken rockets at huh?
I wonder what kind of a major military power that does not know every piece of information about its targets. In 1996, they shelled a UN building full of refugees, and justified the act saying that they had old maps. And now they say they did not know that civlians were in there although they - themselves - said that they warned the civilians.
The BBC's Jim Muir, in Qana, says many did not have the means - or were too
frightened - to flee.
Okay, so let them burn.
In pictures:
Qana 1996
Qana 2006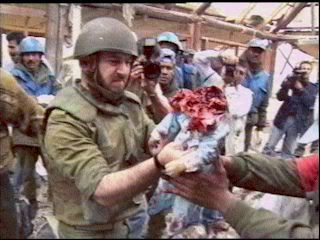 Qana 1996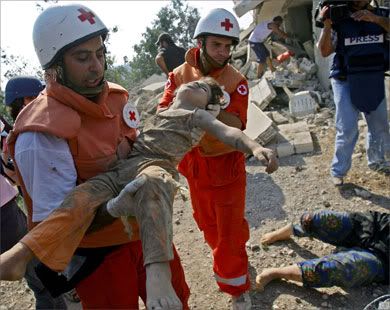 Qana 2006
Tactics never change... huh!
References:
Al Jazeera
Wikipedia